for 3G, WiFi, and free international roaming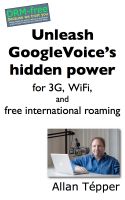 The popular print book is now also available as an eBook for your computer, iPad, Kindle, NOOK, Palm, Sony, or other electronic book readers! Only US$9.00 for the digital version!
With its diverse feature set, GoogleVoice is a wonderful service even in its "crippled" state, but it becomes much stronger once we unleash its hidden power by allowing it to work over WiFi and 3G. This book will give you background about GoogleVoice's features before and after releasing the hidden power, and compare it with similar technologies and services. Later, it will show you why the author believes Google has (so far) crippled GoogleVoice on purpose. Then, this book will teach you how to unleash the hidden power in GoogleVoice, so you can:
Have better reception (especially indoors)
Save money on minutes
Be less exposed to radiation
Take advantage of the unleashed GoogleVoice on your Android or Apple iOS device (iPad, iPhone or iPod Touch… 

without having to jailbreak

!)
Get free international roaming when you visit another country
Pay US$9.00 and get access to all popular eBook formats, including ePub for Apple's iBooks (iPad/iPhone/iPod Touch), Barnes & Noble's NOOK, Stanza, Mobi for Amazon's Kindle, in addition to LRF for the Sony Reader and Palm Doc (PDB) for Palm reading devices. Even if you change your eBook reader later, you'll still have access to all of the formats later, since your purchase will be on record.